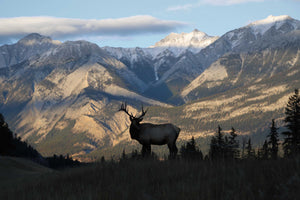 We should all thank the Pittman-Robertson Act for America's amazing outdoor lands
Back in 1937 two U.S. Senators, Pittman and Robertson, had a great idea to redirect the 11% Federal tax on guns and ammunition to the Department of the Interior instead of the general Treasury fund. They then wrote a bill, known as The Pittman-Robertson Act, to specify that the Department of Interior had to distribute the funds to the states for their wildlife management organizations which go by names such as Fish & Game, Parks & Wildlife, Fish & Wildlife, etc.
Each year this tax on guns and ammunition generates hundreds of millions of dollars for wildlife conservation in all 50 states and some US Territories. Without this strict appropriation of funds, many of our wildlife would have become extinct in the 80+ years that this bill has been in existence. 
On top of the funds going to keeping the outdoor life in the United States the envy of the world, the funds also go to firearm safety programs. 
Distribution of the funds is based on how much land exists in the state and the number of licensed hunters. This is a big reason each state should push to have as many licensed hunters as possible in their state. 
As pointed out in Episode 155 of the MeatEater Podcast, some of the biggest consumers of guns and ammunition are those that engage in sport shooting and target practice. If we really want to help with wildlife conservation then, as hunters and outdoorsmen, we should be working to get more and more people into the sport of shooting and hunting. 
Make sure you spread the word about The Pittman-Robertson Act and let people know how they can support wildlife through hunting and sport shooting.

Here's a short video explaining The Pittman-Robertson Act.


---