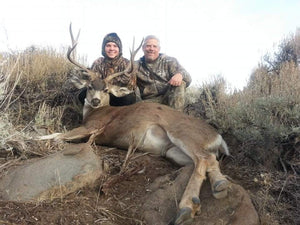 How to use Liquid Attractants by HOTT Scents
One of the biggest questions that we get is, "How do I use urine scents to attract a deer or elk?" 
The good news is that we have the answer to that question, whether your hunting Whitetail, Mule Deer, Blacktail, or Elk, this post will inform you on how to use HOTT SCENTS Liquid Attractants.  If you want to know how to use our Stick Attractants, check out this article: "How to use HOTT SCENTS Stick Attractants."
The best way to use our liquid attractants in the field for deer and elk is to find a shooting lane about 80 to 100 yards from your shooting station, tree stand, or blind. Walk out to the 80 or 100-yard mark and pour some in that area on the brush or a hanging wick. Also, pour some occasionally as you walk back to your shooting station.
Another, more traditional, option to use the liquid attractant is to use a "drag rag." Simply pour the liquid on a rag and attach it to your boot and start walking back to your shooting station. 
Once you get back to your shooting station, you will want to pour a bit on the ground.
Be sure to try our Serenity blend!! This smells like a bedding area!! I put the Serenity Blend on a wick or two and take up in the tree stand or blind and hang it around me as a cover scent.  I DON'T PUT IT ON ME!!
---